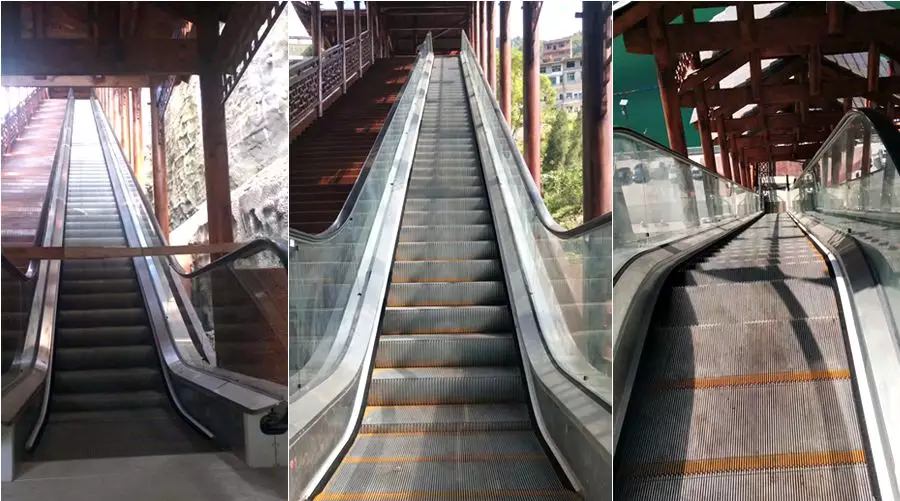 The ancient town of Liyang Gongtan is a national 4A-level scenic spot and a provincial-level scenic spot with a history of more than 1,700 years. The Qingshiban Street in the ancient town is as green as jade, which connects the whole town. The street is surrounded by antique wooden towers with high cliffs, which have unique local characteristics. Located in the territory of Liyang Tujia and Miao Autonomous County of Chongqing City, it is located on the east bank of Wujiang at the intersection of Wujiang and Apengjiang, which is comparable to the world cultural heritage of Lijiang Ancient Town.
Diaojiaolou stands against the water and is built against the mountains. The aura of green mountains and green waters is integrated with nature. It is Xiaojiabiyu in the group of buildings, small and exquisite, elegant and dignified, showing the beauty that fits nature in the simple. The ancient town of Yishui and the mountain gorge are called "the essence of Wujiang Gallery".
The Syney escalator is a new experience in the traffic of Gongtan Ancient Town. It provides the ancient town with an outdoor bus escalator solution with a total lifting height of more than 30 meters. The solution consists of three Syney escalators, one of which is H15m / 30/1000. The city's highest-height outdoor bus-type escalators), designed with log decoration, blue tile roof, ancient style, looks like a Tujialou belt from a distance, fully integrated into the ancient town's thousand years of history.
The sightseeing escalator will be completed and put into use soon. The streets of the ancient town are staggered. It took half an hour from the south of the ancient town to the best viewing point. Now, in less than 5 minutes, you can have a panoramic view of the ancient town and the "Wujiang Gallery". You can also enjoy the ancient charm of thousands of Tujia along the way.
For those who like classical style and enjoy the scenery, Liyang Gongtan Ancient Town is definitely a good choice. By the way, enjoy the peace and comfort brought by the Sini escalator!
【Thank you for your attention】
You can scan and follow us, and get the latest developments of Syney Electric  in time. If you have any problems in using or purchasing our products, you can also contact us as soon as possible, and we will help you solve the problem as soon as possible.
[Syney Electric  official website: https://www.syney.net]
1. Search name: Sini
2. Wechat: SydneyElectric
3. Click "View Public Account" in the upper right corner and follow.