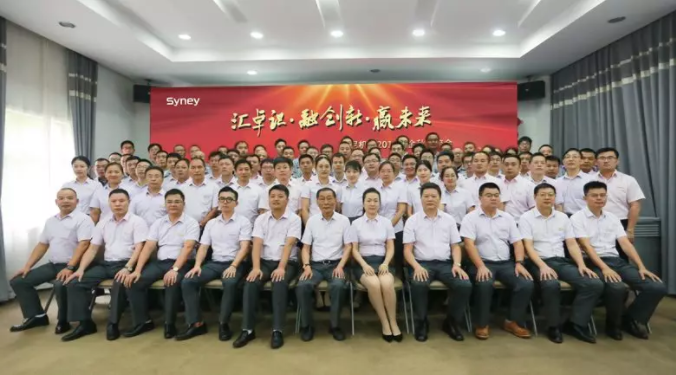 Golden autumn in October, Dangui fragrance, and the rice harvest season.
On October 12th, the Syney Electric "Huizhuo Knowledge • Innovation and Winning Future" Golden Autumn Exchange Conference was held in the company. The management, business backbone and nearly one hundred sales elites from all over the country gathered together to share the fruits and show their grand plans.
At the beginning of the meeting, Mr. Zhu Qiangen, the general manager of Syney Electric , and Mr. He Bin, the deputy general manager, respectively addressed and introduced the new management personnel of our company. At the exchange meeting, we introduced and exchanged our newly acquired honorary qualifications and future qualification planning, bidding and tendering skills, and the company's new VI system site. At the same time, our company will rely on intelligent office, Internet of Things and other information methods to comprehensively enhance the company's brand and business competitiveness, and strive to build offline, online full coverage mobile service network. 
"Innovation creates the future"-Innovation is the cornerstone of our continuous development. Mr. Zhang Dongling, Chief Engineer of Sini Technology, gave a detailed introduction to the development and advantages of our new ladder. At the same time, the new car demonstration and workshop real-time observation, human-machine voice and face recognition, let us face the fierce market competition. More confident.
With sincerity and sincerity, winning with new, Syney will meet the challenge with a new strategic height. This conference demonstrated the firm conviction of continuous pioneering and innovative breakthroughs; the stubborn will of unswerving and win-win together-SYNEY will create new glories and miracles.
【Thank you for your attention】
You can scan and follow us, and get the latest developments of Syney Electric  in time. If you have any problems in using or purchasing our products, you can also contact us as soon as possible, and we will help you solve the problem as soon as possible.
[Syney Electric  official website: https://www.syney.net]
1. Search name: Sini
2. Wechat: SydneyElectric
3. Click "View Public Account" in the upper right corner and follow.